First the pictures, then the links...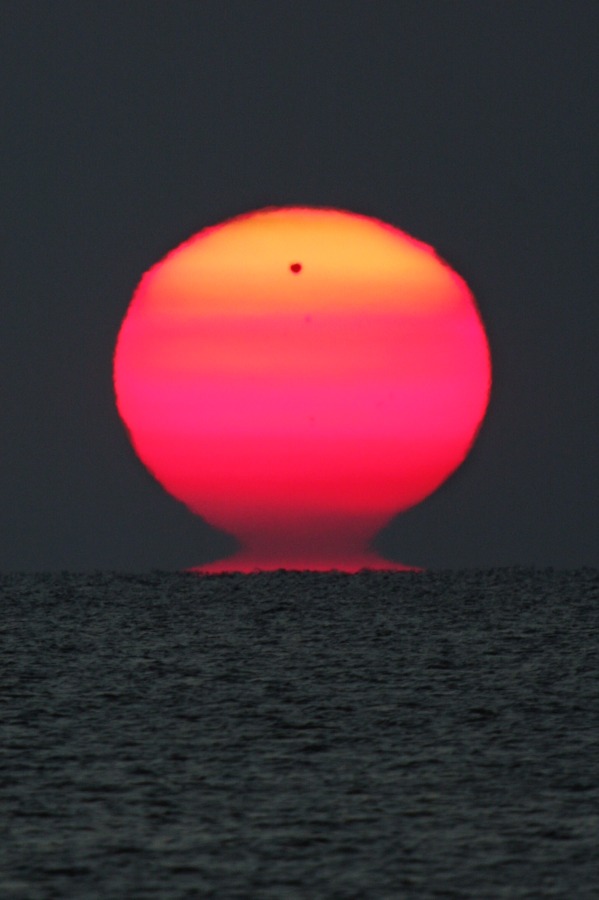 The mysterious arc of Venus
"A bright, glowing rim appeared around the edge of Venus soon after it began to move into the sun... For a brief instant, the planet had turned into a "ring of fire."
http://phys.org/news/2012-06-mysterious-arc-venus.html
Venus' transit and the search for other worlds
The Kepler space telescope's photometer can detect an equivalent drop in light intensity to a gnat walking across a car headlight several miles away.
Venus' transit will help astrophysicists calibrate their computations to identify exoplanets, orbiting other stars
http://phys.org/news/2012-06-venus-transit-worlds.html
This mechanism will be tested further by the Cassini spacecraft (orbiting Saturn) on the 21st of December
http://www.newscientist.com/article/mg21428682.100-watching-the-transit-of-venus-from-saturn.html
Factfile on Venus: Name; Orbit; Diameter; Gravity; Topography; Climate; Enigmas; Transit
http://phys.org/news/2012-06-factfile-venus.html
[video] Horizon - The Transit Of Venus (BBC Documentary, with a demography-defying trio of female presenters, shown the night before the transit started)
http://www.bbc.co.uk/iplayer/episode/b01jszy4/Horizon_20112012_The_Transit_of_Venus/
Venus: the planet of broken dreams
http://phys.org/news/2012-06-venus-planet-broken.html
James Cook and the transit of Venus
On August 12, 1768, Captain Cook left for an island 20 miles across - Tahiti - so that he could record the 1769 transit
http://phys.org/news/2012-06-james-cook-transit-venus.html
Consequent to the transit observations, Cook decided to explore the south Pacific before journeying home. Because of this, he discovered the east coast of Australia
http://phys.org/news/2012-06-venus-transit-historical-significance-australia.html
A colourful guide to the transit by NASA
http://venustransit.nasa.gov/transitofvenus/
Dave's own, amateur shots of Venus transiting the Sun + some better shots through a buff-looking telescope
http://www.youtube.com/watch?v=a1KhH2sMV-c
Not much extra content; but lots of nice pictures
http://phys.org/news/2012-06-eyes-skyward-venus-sun.html